Seagate ST8000VE000
Designed for AI surveillance, SkyHawk AI supports up to 64 HD cameras and 32 additional AI streams while offering massive capacity to hold all the footages. Advanced surveillance-optimized firmware and SkyHawk Health Management to help you sail through your toughest challenges. With high instantaneous (burst) data-transfer rate, you can transfer or backup recorded footages, fast.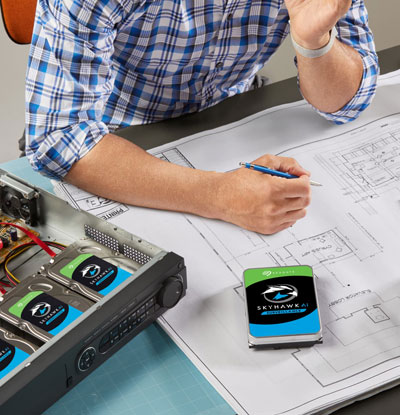 Features;
7200 RPM spindle speed.
Full-track multiple-sector transfer capability without local processor intervention.
High instantaneous (burst) data-transfer rates (up to 600MB per second).
Native Command Queuing with command ordering to increase performance in demanding applications.
Perpendicular recording technology provides the drives with increased areal density.
Power Choice for selectable power savings.
SeaTools diagnostic software performs a drive self-test that eliminates unnecessary drive returns.
State-of-the-art cache and on-the-fly error-correction algorithms.
Support for S.M.A.R.T. drive monitoring and reporting.
Supports latching SATA cables and connectors.
Tarnish-resistant components to help protect drive from environmental elements, increasing field reliability.
Worldwide Name (WWN) capability uniquely identifies the drive.